We operate dozens of facilities nationwide that manage products ranging from bulk food to hazardous chemicals — efficiently, safely, and cost-effectively. The commitment to anticipating and meeting the requirements of our customers has made us a leader in the industry for over three decades. Our terminals are staffed by professionals who take pride in "doing it right the first time, every time."
Our rail terminals operate throughout the U.S. These convenient locations can make shipping through and between major cities easy and cost-effective. We provide transloading services at critical terminals to ship between central coastal locations and nearly anywhere across the continent. We provide transloading services to give shippers access to rail terminals, even when direct rail access isn't available. We also provide warehouse services at rail terminals, and operational assistance to optimize your shipping process.
RSI Terminals Map
We manage over 20 terminals that handle products ranging from bulk food to hazardous chemicals — efficiently, safely, and cost-effectively.
About Our Rail Terminal Services
RSI is an independent operator of bulk rail facilities for railroads and private companies. We partner with Class I and regional lines to deliver supply chain solutions that provide efficiencies and savings to our customers.
RSI has over three decades of experience handling a broad range of bulk commodities including hazardous, non-hazardous, and food grade.
We also assist with the design and implementation of new terminals, particularly those requiring fast startup and relatively low capital expenditure.
By combining our Operations and Rail Logistics Services, we can provide a turnkey end-to-end rail transportation solution.
Rail Route Planning
If your current logistics plans have become excessively expensive, delayed, or other challenges are making shipping difficult, we can help you find rail alternatives. Our experts can help you find the right terminals to route or reroute your supply chain using transloading, leverage competitive rail routes and avoid captive lanes, and manage your transportation from start to finish. Whether you want to increase your rail shipping operations or you want to start using rail shipping for the first time, we can help. Contact us and let us use our expertise to optimize your shipping operations.
Try the Transloading Map
Rail transloading allows you to take advantage of the efficiency and reliability of rail as well as the speed and versatility of trucking. If your shipping location or destination is not directly serviced by rail, truck to rail transloading can help fill in the gap. Our rail transloading map makes it easy to find the rail transloading terminal and services you need. Use the transloading map to see details on transloading terminals across the country, and find transloading terminals closest to your location and destination.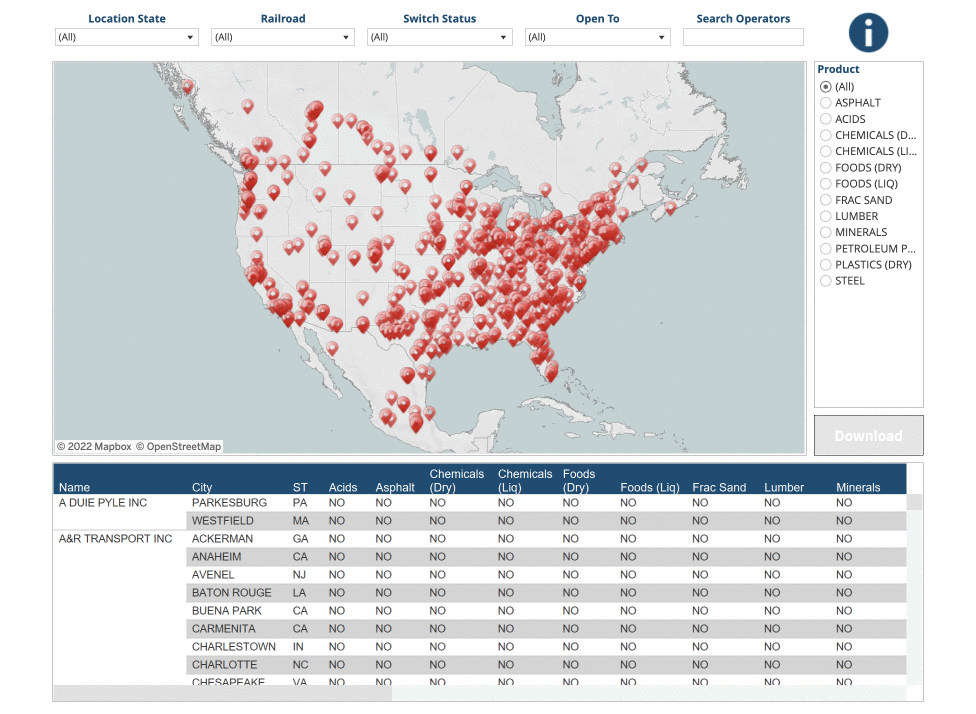 Have questions or want a quote?
Whether you have questions about terminal capabilities, you need a quote for transloading services, or you're looking to optimize your routes, we're here to help.